Land Rover - Painted doors and floor
Painted door bits and floor
After successfully welding everything back together last weekend, I spent two days of the (extra-long) weekend painting the steel door frames, the inside of the door skins, and the interior floor panels.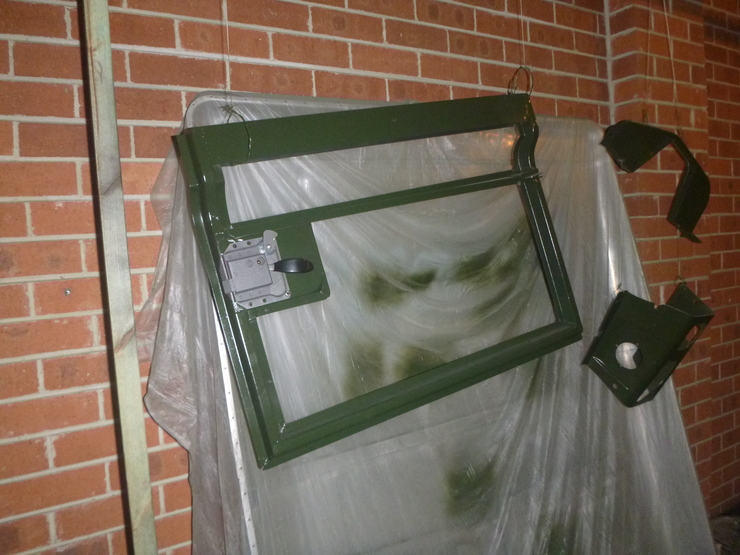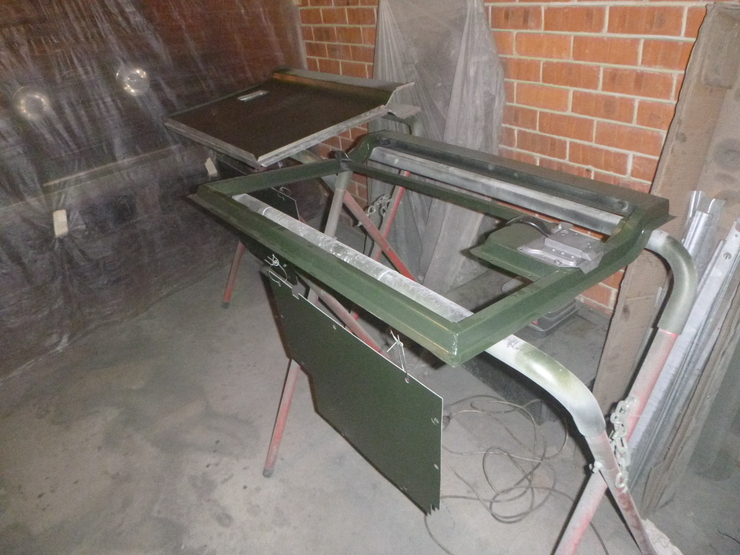 You can see from the above shots that I've test-fitted the new door handles in the door frames. They're not bolted down yet, since I still need to cut/buff/polish the door frames once the clear coat has dried. Originally both of the door frames were hanging up, and the door skins were drying with the painted side down to minimise dust contamination in the clear coat. I took the driver's side door frame down to check some weirdness with the handle fitment (it's somewhat different to the passenger side), but it'll work fine.
The handles are replacement units, since the old ones are completely munted. I decided that if I was replacing them I may as well upgrade to locking handles. Happily, it turned out that the only modification needed to fit the locking mechanism was to slightly enlarge an existing hole.
The reason I only painted the interior of the door skins is because I'll need to fold the edges of the door skins back over the frames at some point, which would ruin any paint in that area. I probably won't quite get the time to paint the outer skins next weekedd, since I need to fit the interior floor as well as cut/buff/polish everything I painted this week.
Other small bits
I spent the second two days of the extra long weekend making sure various smaller items were sorted. I started by re-routing the clutch lines, since the initial fitting I did interfered with the accelerator pedal spring. Once that was done, I bled the clutch, which turned out to be a very quick and easy procedure after I remembered to tighten all of the fittings I replaced when rerouting the clutch lines…
I also got the free play in the clutch adjusted, which didn't take long since I coincidentally got it almost perfect when I did the initial installation. The speedometer cable has also been installed and tied down in the appropriate places, and the bonnet latch has been properly adjusted so it now latches correctly.