Land Rover - Rear cappings installed, rear tub installed, sanding
Galvanised cappings
After having to wait for an air riveting gun and a pile of solid rivets to ship, I've finally attached all of the galvanised cappings to the rear tub. This was an entire weekend worth of work just by itself, and I'm still not 100% done - I don't yet have the rubbing strips for the spare tyre mount. I can't find a source for these, so I'll probably have to get some made up locally.
I've also finished panelbeating/welding the remaining few steel bits that needed work, so they'll be off to the panelbeater next week. As part of this, I chased all of the threads on the windscreen frame. I couldn't find it documented anywhere, so for the record, the threads holding the glass in are UNF #4 (also called "4-40", since they're 40 threads per inch).
Not quite related to the gavlanised parts, but the rear towbar is also fitted, so I can bash my knee on it whenever I'm around the back of the car.
Rear tub
By far the biggest news is that the rear tub is installed. I'm very pleased with how it turned out, although there are a few minor flaws in the paint that I'll need to correct at some point. There was an entire weekend of cutting, buffing and polishing involved here, so if it seems like I'm going slowly, then it's because of that. Apologies for the dust in the photos again, the flash really highlights all the small "floaties" in the air.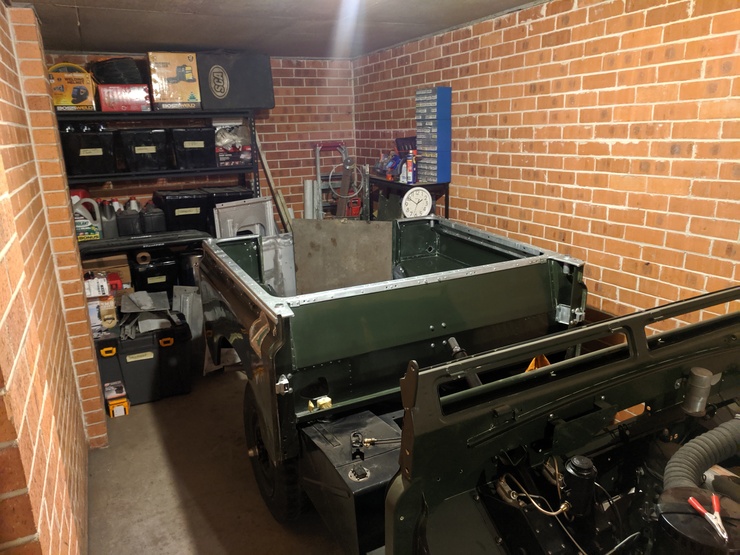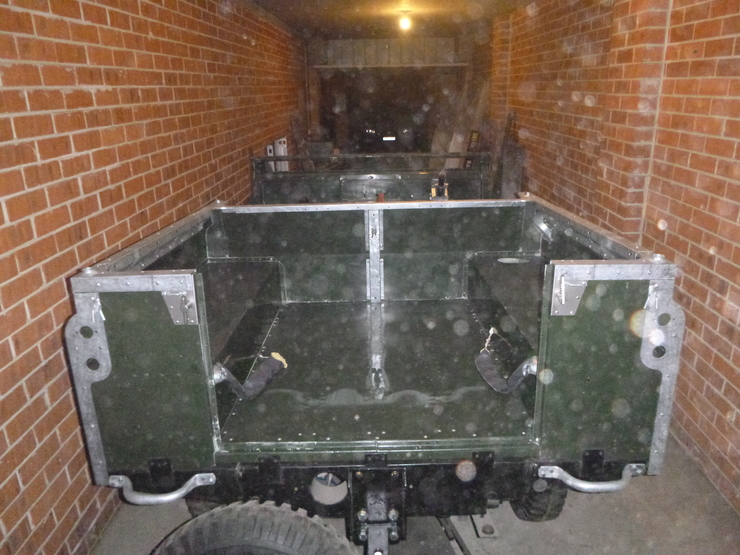 More panelbeating
There was a two-week delay on getting my bodywork back from the sandblaster, since his booth broke down. Once I got it back, though, the panelbeater came around to take the seatbox, front apron, the cover for the seatbox toolbox, the front door skins and the the fuel filler cover panel inside the rear tub away for panelbeating. He said it could be a while until he get a chance to work on them, so don't get too excited for an update on these in the next blog post.
Sanding
I've started sanding down all of the miscellaneous steel parts that I had left over - seat rails, bonnet and door frames, door check strap tubes, etc. There's probably another weekend worth of sanding and painting here, so this is probably what'll happen next week. In the meantime, here's an overall view of the garage, with stuff that needs to be taken to the panelbeater on the left, stuff that's ready to paint on the right, and the aforementioned miscellaneous steel bits on the floor. There's also a few boxes of electrical stuff on the left, behind the covered panels. This shot really shows off how far the whole things has come.