Land Rover - Small parts painted
Some more parts
Most of the parts I ordered arrived during the week, but this weekend was set aside for painting, so I haven't had a chance to do anything with them yet. That should happen sometime next week (during the week, hopefully).
The panel beater claimed to have started my bulkhead this weekend, so I will hopefully have it back for next weekend. I'm not sure if I want to paint the bulkhead next week, or buff and polish all the parts I painted this week (see below).
Painted small bits
This took a surprisingly long time, so I didn't get anything else done this weekend. Still, it's a big milestone, having the first parts painted the colour of the rest of the car! These aren't quite done yet, since they still need to be buffed, have swirl remover applied, and polished.
Those steps aren't strictly necessary for these panels since they don't go in visible places, but that's the point of the test run - to make sure my process and setup is good, without risking damage to something highly visible.
The first photo below is after etch primer has been applied. The second photo is an overall view after the colour and clear have been applied, and the final photo is the closest I could get to how the colour really looks.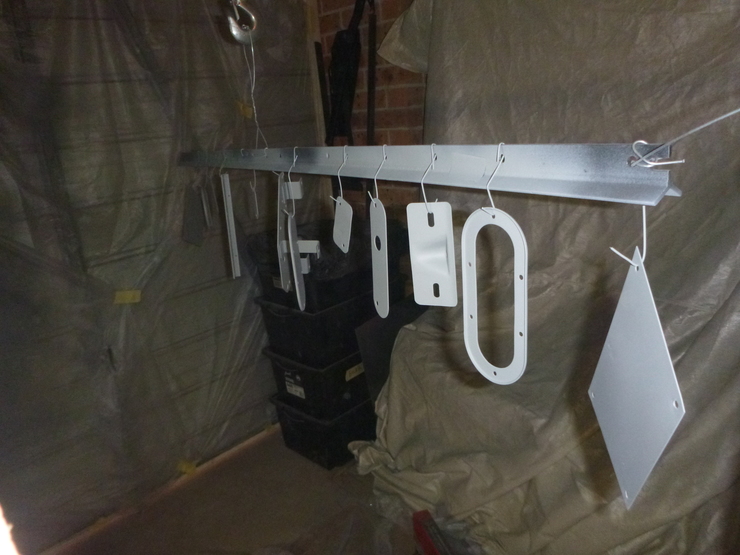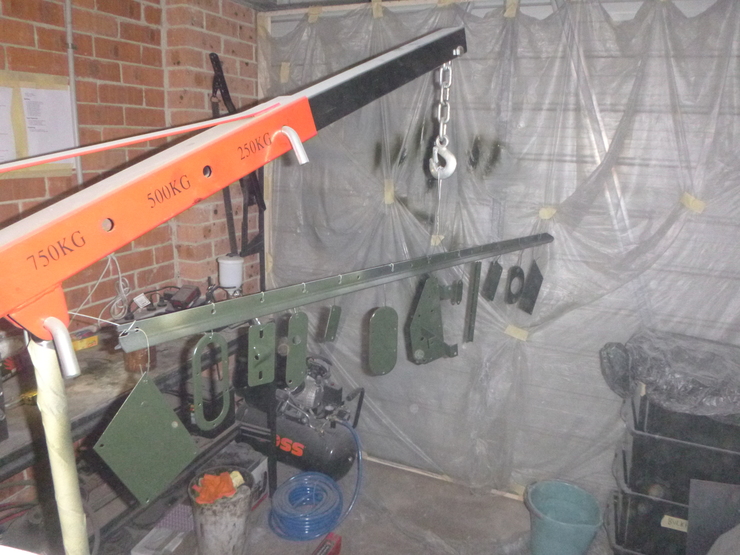 Again, in the hope it'll be useful to someone, here's an obsessively detailed list of steps. I have it broken down like this so I can follow it without having to think too much, allowing me to concentrate on painting technique and the job at hand. The summary is three coats of etch primer, three coats of colour, and four coats of clear.
Paint stripper
Sand (240G)
Apply De-ox-it
Wax and grease remover
Mix etch primer (50/50 multi-purpose thinner)
Spray etch primer
Wait 10 minutes
Trace coat
Sand (240G)
Spray etch primer
Wait 10 minutes
Trace coat
Sand (240G)
Spray etch primer
Leave overnight
Trace coat
Sand (400G wet)
Trace coat
Sand (800G wet)
Dry panel
Wax and grease remover
Mix acrylic (60/40 acrylic thinner/acrylic)
Filter acrylic
Tack rag
Spray acrylic
Wait 10 minutes
Spray acrylic
Wait 10 minutes
Spray acrylic
Wait 10 minutes
Mix clear (50/50 acrylic thinner/clear)
Filter clear
Spray clear (quick)
Wait 10 minutes
Spray clear (slightly quick)
Wait 10 minutes
Spray clear (normal speed)
Wait 10 minutes
Spray clear (normal speed)